A week-long cultural festival will be held in Sapa, one of Vietnam's top holiday and relaxation destinations, from April 30 to May 4, in an effort to increase the northern mountainous area's tourism potential. Called "Walking in a Cloud in Sapa", the festival is designed to lead visitors from surprise to surprise with a series of activities highlighting the rich and distinctive aspects of Sapa's diverse ethnic cultures.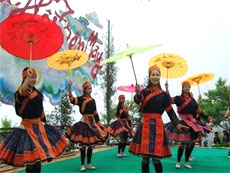 Visitors can join local ethnic minority people to discover how they dye, weave and decorate their garments, or make their sandals.
They will have the chance to take part in forest tours to pick medicinal herbs and learn how to use the plants as well as preparing the traditional meals eaten by the various ethnic minority groups and explore the customs of the Dao ethnic minority people.
more>>