Vietnamese cuisine
lovers and French-speaking chefs from around the globe gathered in Paris on March 31 for a four-day food festival dubbed "Cooks' village in Paris".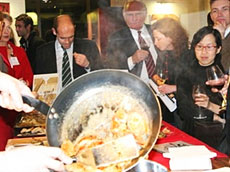 A book titled "Time zone cuisine" was launched by Menu Frettin Publishing House at the festival, which has been an annual event since 2007.
The book, introducing typical dishes and culinary culture of many different countries, was co-authored by 26 famous Francophone chefs.
Vietnamese cuisine was prominently featured, thanks to the articles by Didier Corlou and David Lacroix, who are fascinated with
Vietnamese food.
According to Corlou, Vietnam has a unique culinary culture, and he never misses an opportunity to show off the country's typical dishes.
Vietnamese food plays a positive role in bringing
Vietnam's culture
to the world.
A programme of Vietnamese food will be broadcast on April 4 on TV Channel 5 with French chef David Lacroix demonstrating two dishes.