Once visiting Hau Giang Province, home to endless rice fields and canals entangled with boats, tourists should visit Vi Thanh Commune to let the soul drift with the ships and boats on the stream along Xa No Canal.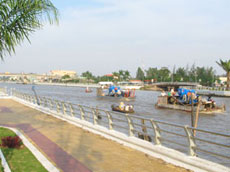 About 60 kilometers from Can Tho City, Vi Thanh Commune attracts travelers to its canal along Xa No Park with its poetic surroundings. The park runs along Tran Hung Dao Street, protecting visitors from the sun with its many green trees. It is amazing to walk in the park under the moonlight to watch the boats silently float on the canal.
The canal was formed in 1901-1903 by two French people, Duval and Guery. At night, departing from Vi Thanh Market, tourists can stroll along the canal to taste the rustic flavor of the delta. Along the canal is a statue garden with dozens of white stone sculptural works. Stepping onto the overpass, travelers can see the great length of the canal.
more>>